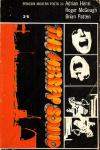 Adrian Henri poet from United Kingdom was born on April 10, 1932, had 68 years and died on December 20, 2000. Poems were written in Modern age mainly in English language. Dominant movement is surrealism, dadaism, absurdism.
Top ten poems Adrian Henri
... Dance little baby, and mother shall sing, ...
... If that should chance to cut a vein, ...