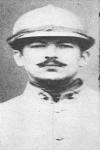 Poems by Alan Seeger
... Pulse nigh to pulse, and breath to breath, ...
... There are will say, One such our lips could name ...
... The courts where revel rang deep grass and moss ...
... Dear face, when courted Death shall claim my limbs and find them ...
... Whose shades our country venerates to-day, If we've not somewhat fallen and somewhat gone astray ...
... By the might of their hands and the strength of their will, ...
... Thou, Love, hast been my lord, thy shrine ...
... Nor live for aught else but the joy that it craves, ...
... Cast out industrious cares with dreams of fabulous isles -- ...
... With sweet flesh patterned where the cool turf pressed, ...
... With which his bounden slaves the God of Love constrains, ...
... II Here, where in happier times the huntsman's horn ...
... Broceliande. Only at dusk, when lavender clouds in the orient twilight disband, ...
... Turned their last thoughts and closed their dying eyes, Rather when music on bright gatherings lays ...
... In flower and meadow and mountain and heaven where the white clouds breed ...