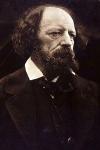 Alfred Tennyson poet from United Kingdom was born on August 6, 1809, had 83 years and died on October 6, 1892. Poems were written in Victorian age mainly in English language. Dominant movement is parnassianism.
Top ten poems Alfred Tennyson
... They would pelt me with starry spangles and shells, ...
... Would start and tremble under her feet, ...
... the walls Blackened about us, bats wheeled, and owls whooped, ...
...   But there rings on a sudden a passionate cry, ...
... they dwelt Deep-tranced on hers, and could not fall: &emsp ...
... and his wife Nursed the young prince, and reared him with her own ...
...  Look'd down, half-pleased, half-frighten'd, ...
... out we paced, I first, and following through the porch that sang ...
...   The little speed well's darling blue, ...
... Gold again. All his leaves ...