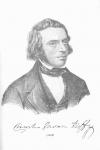 Biography
The Rt. Hon. Sir Charles Gavan Duffy, KCMG, PC), Irish nationalist and Australian colonial politician, was the 8th Premier of Victoria and one of the most colourful figures in Victorian political history. Duffy was born in Dublin Street, Monaghan Town, County Monaghan, Ireland, the son of a Catholic shopkeeper. Both his parents died while he was still a child and his uncle, Fr James Duffy, who was the Catholic Parish Priest of Castleblayney, became his guardian for a number of years.

He was educated at St Malachy's College in Belfast and was admitted to the Irish Bar in 1845.
Even before being admitted to the bar, Duffy was active on the Irish land question, and in that connection in 1842 he became an ally of James Godkin.[1]
In 1842 he married Emily McLaughlin, who died in 1845. He married Susan Hughes in 1846, with whom he had six children.
Duffy became a leading figure in Irish literary circles. He edited Ballad Poetry of Ireland (1843) and other works on Irish literature.

Charles Gavan Duffy was one of the founders of The Nation and became its first editor; the two others were Thomas Osborne Davis, and John Blake Dillon.[2] All three were members of Daniel O'Connell's Repeal Association, and would later become to be known as Young Ireland. This paper, under Duffy, transformed from a literary voice into a 'rebellious organization'.[3] As a result of The Nation's support of Repeal, Duffy, as Proprietor, was arrested and convicted of seditious conspiracy in relation to the Monster Meeting planned for Clontarf, just outside Dublin, but was released after an appeal to the House of Lords.[4]
In August 1850 Duffy formed the Tenant Right League to bring about reforms in the Irish land system and protect tenants' rights, and in 1852 he was elected to the House of Commons for New Ross.

When Berry became Premier in 1877 he made Duffy Speaker of the Legislative Assembly, a post he held without much enthusiasm until 1880, when he quit politics and retired to the south of France. Duffy remained interested in both the politics of his adoptive country and of Ireland. From his exile in France, Duffy was an enthusiastic supporter of the Melbourne Celtic Club, which aimed to promote Irish Home Rule and Irish culture.[5] His sons also became members of the club.
He was knighted in 1873 and made KCMG in 1877. He married for a third time in Paris in 1881, to Louise Hall, and had four more children in his 70s. One of his sons, John Gavan Duffy, was a Victorian politician between 1874 and 1904. Another, Sir Frank Gavan Duffy, was Chief Justice of the High Court of Australia 1931–1935.
Yet another son, Mr Justice George Gavan Duffy (born 1882), was an Irish politician and later (from 1936) a judge of the Irish High Court, becoming its President from 1946 until his death in 1951.
His grandson, Charles Leonard Gavan Duffy, was a judge on the Supreme Court of Victoria, Australia.
Sir Charles Gavan Duffy died in Nice in 1903, aged 86.
(Note: Both Charles and Frank Gavan Duffy are sometimes referred to as though their surname was Gavan Duffy. There is no doubt that the family surname was Duffy, but the family tradition of giving all children the middle name Gavan has led to some confusion about this.)