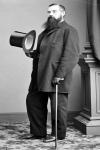 Charles Godfrey Leland poet from United States was born on August 15, 1824, had 78 years and died on March 20, 1903. Poems were written mainly in English language. Dominant movement is prevalent form.
Top ten poems Charles Godfrey Leland
... Tree days mid shdiflin powder shmoke, ...
... "Shoost see dat vight of troonken boors- ...
... Dere's silber toughts vot might hafe peen, ...
... " Here der maire fell down in schwoonin, ...
... Den t'vas "Here's to you, Breitmann! Alt Schwed" - bist zuruck ...
... Und schwimmed dat surf ash I hafe schwimmed, ...
... "Since you votes mine dicket, of course you know, ...
... do soospect, Ish dat oder volk hafe more soopose - und lesser intellect ...
... Oh, dose long-tailed veilchen Augen, ...
... Und de sprite, vitch in double sense paltered, ...