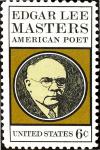 Edgar Lee Masters poet from United States was born on August 23, 1868, had 81 years and died on March 5, 1950. Poems were written in Modern age mainly in English language. Dominant movement is political.
Top ten poems Edgar Lee Masters
... Ye aspiring ones, listen to the story of the unknown ...
... Jones!" (I thought it was his house and he would show me the way home ...
... (Thomas Rhodes was on the train that morning ...
... Where the throats of the waves were like whippoorwills ...
... With deep-set eye staring at the door of the crawfish's burrow, ...
... I played the cornet and painted pictures, ...
... I sent all the boys to Ann Arbor, all of the girls to Rockford, ...
... I slipped about with a bull's-eye lantern ...
... And I said "What does God do with mountains ...
... But my life. For love was offered me and I shrank from its disillusionment ...