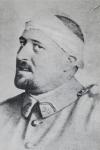 Poems by Guillaume Apollinaire
... Songes-tu quelquefois quand les nuits sont bien pâles ...
...   Dans cette zone où règne la blancheur ...
...   Nos fanfares éclatent dans la nuit comme ta voix ...
... leurs pieds Debout chantez plus haut en dansant une ronde ...
... See the speaker stick his tongue out at the listeners ...
... And how I love O season how I love your rumbling ...
... Oui je veux vous aimer mais vous aimer à peine ...
... The dwarf observes with saddened pose ...
... And takes its moon-honey to the rose of the winds ...
... Under Mirabeau Bridge the river slips away ...
... On earth we'll see no more of each other ...
... Between love and disdain ...
... Bien qu'il me vienne en août votre quatrain d'avril ...
... Such a bitter walnut tells his grief to the showers ...
... Les jours s'en vont je demeureLes mains dans les mains restons face à face ...