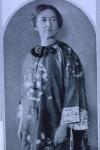 Harriet Monroe poet from United States was born on December 23, 1860, had 75 years and died on September 26, 1936. Poems were written mainly in English language. Dominant movement is other.
Top ten poems Harriet Monroe
... Not homeward could the winged feet fare, ...
... She hath hearkened to singing more silvern, seen raptures more bright ...
... The mountains at the world's bounds ...
... Then the worn chains shall slip from man's desire, &emsp ...
... Will walk in darkness through the liquid night, Submerged ...
...   Have I chalked out a sketch in my rhyme ...
... We have over-strained your strength, we have over-trusted ...
... Fierce fires have stripped you naked- ...
... That the winged joy, sweet honey-loving rover, ...
... But with the- wheels your feet must run— ...