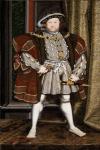 Henry VIII, King of England poet from United Kingdom was born on June 28, 1491, had 55 years and died on January 28, 1547. Poems were written in Middle English mainly in English language. Dominant movement is political.
Top ten poems Henry VIII, King of England
... greenwood leaves be gone,Now unto my ladyPromise to her I make,From all other onlyTo her I me betake ...
... ell which love doth get--To lovers I put now sure this case:Which of their loves doth get them grace ...
... hat this rude play may well be take,And that we may our faults amend,An bliss obtain at our last end ...
... Grudge whoso will, but none deny,So God be pleased, this live will I ...
... mend, and here an end, Thus saith the king, the eighth Harry, Though some saith that youth ruleth me ...
... were pity they should obtain,For often times where they do sueThey hinder lovers that would be true ...
... n,Those should we covet, win who can,As feats of arms and such otherWhereby activeness one may utter ...