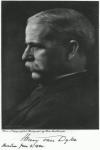 Henry Van Dyke poet from United States was born on November 10, 1852, had 80 years and died on April 10, 1933. Poems were written mainly in English language. Dominant movement is theology.
Top ten poems Henry Van Dyke
... The sailors wept and tore their clothes, and shrieked "We'll all be drownded!" ...
...   For all the love that she has given ...
...   Black are their hearts as the night, ...
... But as I turned the desert miles were crossed, ...
... That swells, and sinks, and faints, and falls, till all is still ...
... It will live if you safeguard the round-the-world road ...
... Has climbed to where the keyboard stands,- ...
...   And hope, through clouds, far-off discerned ...
... Here a Father's hand upholdeth all who bear each other's burdens: ...
...   Through all the world, - the poets laurel-crowned ...