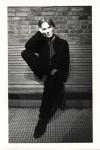 Jim Carroll poet from United States was born in 1950 has 73 years. Poems were written mainly in English language. Dominant movement is other.
Top ten poems Jim Carroll
... e currents of electricity shift Your Body becomes a magnet and pulls to it despair and rotten teeth, ...
... ith each morning song, you imagined that a net of golden larks floated between the Earth and the sky ...
... oking for the older alpaca, for the one who sheds a pack on high, and returns to the sun's radiance ...