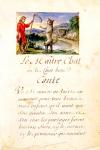 Poems were written mainly in English language. Dominant movement is other.
Top ten poems Mother Goose
... One for my master, One for my dame,But none for the little boyWho cries in the lane ...
... Loose your supper, and loose your sleep,Come to your playfellows in the street ...
... Little Tom Tinker's dog,Bow, wow, wow ...
... The clock struck one,The mouse ran down,Dickery, dickery dock ...
... Who never did any harm,And kill'd the mice in his father's barn ...
... The little dog laugh'dTo see such craft,And the dish ran away with the spoon ...
... When the bough breaksThe cradle will fall,Down tumbles baby,Cradle, and all ...
... Jack fell downAnd broke his crown,And Gill came tumbling after ...
... And so betwixt them both,They lick'd the platter clean ...
... He put in his thumb,And pull'd out a plumb,And what a good boy was I ...