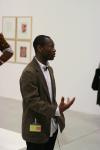 Olu Oguibe poet from United States was born on October 14, 1964 has 58 years. Poems were written in Modern age mainly in English language. Dominant movement is other.
Top ten poems Olu Oguibe
... here and there i hear your name like the distant crack of a whip ...
... It is because the grasses wither in this deluge of blood ...
... I will go upon the hill and cast my little net, ...