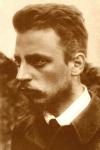 Rainer Maria Rilke poet from Czech Republic was born in 1875, had 51 years and died in 1926. Poems were written in Modern age mainly in German language. Dominant movement is expressionism.
Top ten poems Rainer Maria Rilke
... round which it whirls, bewitching and aglow ...
... Do we know this, my friends, or don't we know this ...
... as she lifts up her face, while with her small firm feet ...
... If we had to exist to become the one we love, ...
... We keep on playing, still anxious, our difficult roles ...
... so lightly Would it let go of him, whom ...
... that come to rest weightlessly upon your breast, ...
... which draws one voice out of two seperate strings ...
... as though, legs bound, we hobbled along the way, ...
... We don't know if he is frightened ...