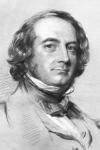 Richard Monckton Milnes poet from United Kingdom was born in 1809, had 76 years and died in 1885. Poems were written mainly in English language. Dominant movement is other.
Top ten poems Richard Monckton Milnes
... ... Long ere the sun's most curious ray ...
... Rare gems, and flowers, and lofty songs are brought ...
... Where Heaven's grand councils wait, 'till Wisdom's self shall come ...
... Touch not with wilful force those flowers or thine,-- ...
... Men of flint brows, hard hands and hearts, were they, ...
... The trave'ller's mind, beside this secret stream, ...
...   I seem to be asleep,--I seem to dream,-- ...
... Pale! as my heart, which wears ...
... Based in deep lakes and woods, and crowned with storms, ...
... A girl, with limbs fine--rounded and clear--brown, ...