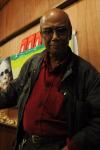 Biography
Syed Shamsul Haque (Bengali: ????? ?????? ??) is a Bangladesh poets and writer.

Early Life

Syed Shamsul Haq was born in a small town called Kurigram on 27 December in 1935. His father was Syed Siddique Husain, a homeopathic physician. His mother was Halima Khatun. His father came to Kurigram to pursue in the practice of medicine. Traditionally they belonged to a Peer (Saint) family. But Haq's father broke the family tradition and studied in the main stream course of English education and then took up Medicine.

Haq passed his childhood in Kurigram. During his childhood he observed the events of World War II.

Personal Life

Haq married Dr. Anwara Syed Haq. They have one daughter, Bidita Sadiq and one son, Ditio Syed Haq. Bidita teaches English literature at higher school level. Ditio, an IT specialist, writes stories, lyrics and music.

Literature

Syed Shamsul Haq writes poetry, fiction, plays- mostly in verse and essays. His literary works were included in the curriculum of school level, secondary, higher secondary and graduation level Bengali literature in Bangladesh.

Awards

Bangla Academy Award (1966)
Adamjee Literary Award (1969)
Alakta Gold Medal (1982)
Alaol Literary Award (1983)
Kabitalap Award (1983)
Literary Award of the Association of Women Writers
Ekushey Padak (1984)
Jebunnessa-Mahbubullah Gold Medal (1985)
Padabali Kabita Award (1987)
Nasiruddin Gold Medal (1990)
National Poetry Award (1997)
national Poetry Honour (2001)
TENAS Medal (1990).
Swadhinata Padak (2000) ..