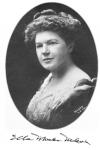 Wilcox Ella Wheeler poet from United States was born on November 5, 1850, had 69 years and died on October 30, 1919. Poems were written in Modern age mainly in English language. Dominant movement is other.
Top ten poems Wilcox Ella Wheeler
... Wealth breeds false aims, and pride and selfishness ...
... If one poor burdened toiler o'er life's road, ...
... To a friend who was standing near him, ...
... And dropp with you down to sweet Hell! In the midnight of darkness and terror, ...
... Come from thy mystic lands! No love that, like a mother's fills ...
... And the beard of the husband said, plain as could be, ...
... How you looked in my eyes, 'neath the August skies, ...
... 'Father.'Now I think of all achievements 'tis the least ...
... Though your great love fills me with such content, ...
... Though branch by branch proved withered wood, ...