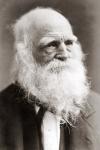 William Cullen Bryant poet from United States was born on November 3, 1794, had 83 years and died on June 12, 1878. Poems were written in Romantic age mainly in English language. Dominant movement is romanticism.
Top ten poems William Cullen Bryant
... And should the day o'ertake us when, at last, ...
... Come, the young violets crowd my door, ...
... Well they have done their office, those bright hours, ...
...   Shone through the snowy veils like stars through mist ...
... Guides through the boundless sky thy certain flight, ...
...   The spheres of heaven shalt cease to shine, ...
... Where the small waves dance, and the young woods lean ...
...   Their chambers close and green ...
... Shines, at their feet, the thirst-inviting brook ...
... Thy sports, thy wanderings, when a child, ...