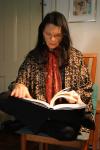 Anne Waldman poet from United States was born in 1945 has 78 years. Poems were written mainly in English language. Dominant movement is feminism.
Top ten poems Anne Waldman
... My heart's in 2, half to him & half ...
... For the winner is someone we recognize out of our collective past&nbsp ...
... Other religions and customs will prevail in their own separate ways&nbsp ...
... "That all these dyings may be life in death&rdquo ...
... I sing this into a scallop shell with face of a pearl&nbsp ...
... motion as bluebird we observe over meadow or caught&nbsp ...
... when you look most like a bird, that is the time to come around to it&nbsp ...
... The separation is you plus me plus what we make&nbsp ...
... I and I and I and I and I and I, infinitely reversible&nbsp ...