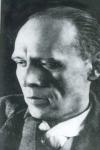 Daniil Ivanovich Kharms poet from Russian Federation was born on December 30, 1905, had 36 years and died on February 2, 1942. Poems were written in Modern age mainly in Russian language. Dominant movement is political.
Top ten poems Daniil Ivanovich Kharms
... t content with just having smashed you over the skull with this stone, I'll rip your leg off as well ...
... v jumped up from his divan and, hatless and coatless, raced off in the direction of Tavrichesky Park ...
... l woman give off a slight, pleasant smell which increases strongly when the sensual woman is aroused ...
... being the Mother of the world and the world itself and the child of the world being ...
... Right from milk-white clockface down ...
... He touched me with his finger bearing a dark ring — ...
... rue, they are very fine and bouncy, but they are so big that, in my opinion, they're simply indecent ...
... Give us courage to die under the sea, ...
... endiferousness and a certain lack of bodily hygiene are what is to be particularly valued in a woman ...
... He had no stomach and he had no back and he had no spine and he had no innards whatsoever ...