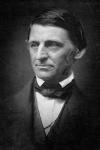 Ralph Waldo Emerson poet from United States was born on May 25, 1803, had 78 years and died on April 27, 1882. Poems were written in Romantic age mainly in English language. Dominant movement is romanticism.
Top ten poems Ralph Waldo Emerson
... Carries the eagles, and masters the sword ...
... I, too late, Under her solemn fillet saw the scorn ...
... Heartily know, When half-gods go, ...
... Melt into one. There Past, Present, Future, shoot ...
... Through years, through men, through Nature fleet, ...
... Dread power, but dear! if God thou be, ...
... Each cloud that floated in the sky ...
... For what are they all in their high conceit, ...
... away they all flew, like the down of a thistle:But I heard him exclaim, ere he drove out of sight— ...
... Had a quarrel, And the former called the latter, "little prig": ...