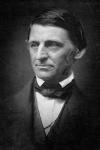 Quotes by Ralph Waldo Emerson
The highest revelation is that God is in every man.
Every spirit makes its house, and we can give a shrewd guess from the house to the inhabitant.
People disparage knowing and the intellectual life, and urge doing. I am content with knowing, if only I could know.
Nothing external to you has any power over you.
Passion rebuilds the world for the youth. It makes all things alive and significant.
We are a puny and fickle folk. Avarice, hesitation, and following are our diseases.
For everything you have missed, you have gained something else, and for everything you gain, you lose something else.
There is a blessed necessity by which the interest of men is always driving them to the right; and, again, making all crime mean and ugly.
Men admire the man who can organize their wishes and thoughts in stone and wood and steel and brass.
Every man is a consumer, and ought to be a producer. He is by constitution expensive, and needs to be rich.
The greatest glory in living lies not in never falling, but in rising every time we fall.
The years teach much which the days never know.
What you are comes to you.
Every book is a quotation; and every house is a quotation out of all forests, and mines, and stone quarries; and every man is a quotation from all his ancestors.
Great men or men of great gifts you shall easily find, but symmetrical men never.
There is an optical illusion about every person we meet.
It is my desire, in the office of a Christian minister, to do nothing which I cannot do with my whole heart. Having said this, I have said all.
Little minds have little worries, big minds have no time for worries.
Who hears me, who understands me, becomes mine, a possession for all time.
In every society some men are born to rule, and some to advise.
We are born believing. A man bears beliefs as a tree bears apples.
Our admiration of the antique is not admiration of the old, but of the natural.
We see God face to face every hour, and know the savor of Nature.
To be yourself in a world that is constantly trying to make you something else is the greatest accomplishment.
All life is an experiment. The more experiments you make the better.