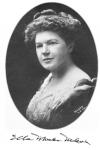 Poems by Wilcox Ella Wheeler
... And leaped like a steed o'er the race track blue, ...
... Believe, when these printed words reach you, ...
... As they fly from the fields that are turning brown, ...
... Here, in the midst of the strife, ...
... She rang down the curtains and shifted the scene ...
... I meant to strangle it then and there!I thought it was dead ...
... And my heart beats high, as young hearts will, ...
... Mixed with this later love, which seems, somehow, ...
... But alack for their creeds while the poor man's needs ...
... Reach down to help you to their peace-crowned heights, ...
... The Fates have hearts and they can feel-- ...
... a season I felt a fluttering heart beat 'neath my own ...
... Why, reveries like these have made men mad! He must have felt her soft hand on his brow ...
... 'My presence asked' to see her marry ...
... Not up fame's height, not toward the base god's goal, ...