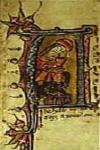 William Langland poet from United Kingdom was born in 1332, had 54 years and died in 1386. Poems were written in Middle English mainly in English language. Dominant movement is theology.
Top ten poems William Langland
... In th'Eseheker and in the Chauncerye, to ben descharged of thynges, ...
... ' " Were thow a preest, Piers,' quod he, " thow myghtest preche where thow sh ...
... Weend to Amalec with thyn oost, and what thow fyndest there - sle it ...
... And hath no contricion er he come to shrifte - and thanne kan he litel telle, ...
... For sith he hath the power that Peter hadde, he hath the pot with the salve ...
... "Homines et iumenta salvabis, quemadmodum multiplicasti misericordiam tuam, Deus ...
... Existimasti inique quod ero tui similisArguam te, et statuam contra faciem t ...
... ' " Ye? Recche thee nevere!' quod Rechelesnesse, stood forth in raggede clothes ...
... Thanne with the firste pil I palle hym doun - that is Potencia Dei Patris ...
... I have whispered thee in thy solitudes&nbsp ...