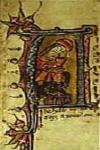 Poems by William Langland
... In th'Eseheker and in the Chauncerye, to ben descharged of thynges, ...
... ' " Were thow a preest, Piers,' quod he, " thow myghtest preche where thow sh ...
... Weend to Amalec with thyn oost, and what thow fyndest there - sle it ...
... And hath no contricion er he come to shrifte - and thanne kan he litel telle, ...
... For sith he hath the power that Peter hadde, he hath the pot with the salve ...
... "Homines et iumenta salvabis, quemadmodum multiplicasti misericordiam tuam, Deus ...
... Existimasti inique quod ero tui similisArguam te, et statuam contra faciem t ...
... ' " Ye? Recche thee nevere!' quod Rechelesnesse, stood forth in raggede clothes ...
... Thanne with the firste pil I palle hym doun - that is Potencia Dei Patris ...
... I have whispered thee in thy solitudes&nbsp ...
... And, smiling as a chaste woman Knowing love in her heart,&nbsp ...
... And whoso synneth,' I seide, " [certes] dooth yvele, as me thynketh, ...
... Filius non portabit iniquitatem patris et pater non portabit iniquitatem filii ...
... In domo mea non est panis neque vestimentum, et ideo nolite constituere me regem ...
... Is the rose and white color of the smooth flag-stones,&nbsp ...