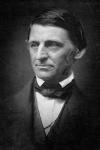 Quotes by Ralph Waldo Emerson
Once you make a decision, the universe conspires to make it happen.
The martyr cannot be dishonored. Every lash inflicted is a tongue of fame; every prison a more illustrious abode.
The history of persecution is a history of endeavors to cheat nature, to make water run up hill, to twist a rope of sand.
A man of genius is privileged only as far as he is genius. His dullness is as insupportable as any other dullness.
The child with his sweet pranks, the fool of his senses, commanded by every sight and sound, without any power to compare and rank his sensations, abandoned to a whistle or a painted chip, to a lead dragoon, or a gingerbread dog, individualizing everything, generalizing nothing, delighted with every new thing, lies down at night overpowered by the fatigue, which this day of continual pretty madness has incurred. But Nature has answered her purpose with the curly, dimpled lunatic. She has tasked every faculty, and has secured the symmetrical growth of the bodily frame, by all these attitudes and exertions --an end of the first importance, which could not be trusted to any care less perfect than her own.
A hero is no braver than an ordinary man, but he is braver five minutes longer.
To different minds, the same world is a hell, and a heaven.
The adventitious beauty of poetry may be felt in the greater delight with a verse given in a happy quotation than in the poem.
The hearing ear is always found close to the speaking tongue; and no genius can long or often utter anything which is not invited and gladly entertained by men around him.
The highest praise we can attribute to any writer, painter, sculptor, builder, is, that he actually possessed the thought or feeling with whic...
There is always room for a man of force, and he makes room for many.
The only way to have a friend is to be one. Friendship