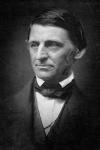 Quotes by Ralph Waldo Emerson
The reward of a thing well done is having done it.
Hitch your wagon to a star.
Unless you try to do something beyond what you have already mastered, you will never grow.
We are symbols, and inhabit symbols.
Let every man shovel out his own snow and the whole city will be passable.
Trust men and they will be true to you; treat them greatly and they will show themselves great.
The best effort of a fine person is felt after we have left their presence.
What is a weed? A plant whose virtues have never been discovered.
To know even one life has breathed easier because you have lived. This is to have succeeded.
In art, the hand can never execute anything higher than the heart can imagine.
Getting old is a fascination thing. The older you get, the older you want to get.
All diseases run into one, old age.
No change of circumstances can repair a defect of character.
Pictures must not be too picturesque.
We gain the strength of the temptation we resist.
Science does not know its debt to imagination.
The end of the human race will be that it will eventually die of civilization.
We must be our own before we can be another's.
Nothing is at last sacred but the integrity of your own mind.
I hate quotations. Tell me what you know.
Use what language you will, you can never say anything but what you are.
In skating over thin ice our safety is in our speed.
It is one of the blessings of old friends that you can afford to be stupid with them.
For every benefit you receive a tax is levied.
The first wealth is health.