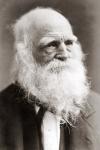 Poems by William Cullen Bryant
... A rich turf Of grasses brought from far o'ercrept thy bank, ...
... But thine were fairer yet!I'm glad to see my infant wear ...
... in the way Strolled groups of damsels frolicksome and fair ...
... Have these No train of flaming watchers, that shall mark ...
... Shall deck her for men's eyes---but not for thine--- ...
... The rivulet Sends forth glad sounds, and tripping o'er its bed ...
... These to their softened hearts should bear ...
... And love, though fallen and branded, still ...
... While streamed afresh her graceful tears, ...
... Might wear out life like thee, 'mid bowers and brooks ...
... Send the dark locks with which their brows are dressed, ...
... Where are the flowers, the fair young flowers, that lately sprang and stood ...
... Thence look the thoughtful stars, and there ...
... O'er Greece long fettered and oppressed,Whose sons at length have heard the call that comes ...
...   These limbs, now strong, shall creep with pain, ...