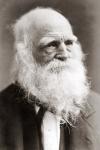 Poems by William Cullen Bryant
...   That heart whose fondest throbs to me were given ...
...   Flings o'er his shivering plumes the fountain's spray ...
... And the strong and fearless bear, in the trodden dust shall lie, ...
... The blood Of freemen shed by freemen, till strange lords ...
... Then sweet the hour that brings release ...
... The climbing sun has reached his highest bound, ...
... Hath placed thee with the sons of light, ...
...   Still flows the fount whose waters strengthened thee, ...
... A SONNET. Chains may subdue the feeble spirit, but thee, ...
... The white sleeves flit and glimmer, the wreaths and ribands toss ...
...   Trode out their lives and earned the curse of Cain! ...
... sweet airs Ripple the living lakes that, fringed with flowers, ...
... dropped upon them out of heaven, and suffered neither the birds of the ...
... He saw the rocks, steep, stern, and brown, ...
... Put we hence Dark and sad thoughts awhile--there's time for them ...