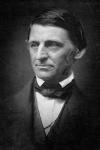 Quotes by Ralph Waldo Emerson
It is not length of life, but depth of life.
Character is higher than intellect. A great soul will be strong to live as well as think.
Then beauty is its own excuse for being.
The value of a dollar is social, as it is created by society.
The fox has many tricks. The hedgehog has but one. But that is the best of all.
An ounce of action is worth a ton of theory.
Nobody can bring you peace but yourself.
The civilized man has built a coach, but has lost the use of his feet.
Don't be too timid and squeamish about your actions. All life is an experiment.
Fear defeats more people than any other one thing in the world.
Every man has his own courage, and is betrayed because he seeks in himself the courage of other persons.
Write it on your heart that every day is the best day in the year.
The desire of gold is not for gold. It is for the means of freedom and benefit.
Men love to wonder, and that is the seed of science.
By necessity, by proclivity, and by delight, we all quote.
Trust thyself: every heart vibrates to that iron string.
The whole secret of the teacher's force lies in the conviction that man are convertible.
He who is not everyday conquering some fear has not learned the secret of life.
Beauty without expression is boring.
People only see what they are prepared to see.
There was never a child so lovely but his mother was glad to get him to sleep.
New York is a sucked orange.
Every man I meet is in some way my superior.
The method of nature: who could ever analyze it?
Culture is one thing and varnish is another.