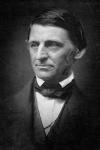 Quotes by Ralph Waldo Emerson
A man is usually more careful of his money than he is of his principles.
The ancestor of every action is a thought.
All I have seen teaches me to trust the creator for all I have not seen.
People that seem so glorious are all show; underneath they are like everyone else.
All mankind love a lover.
Doing well is the result of doing good. That's what capitalism is all about.
Fiction reveals truth that reality obscures.
All life is an experiment.
As a cure for worrying, work is better than whiskey.
Beauty without grace is the hook without the bait.
Earth laughs in flowers.
When we quarrel, how we wish we had been blameless.
The louder he talked of his honor the faster we counted our spoons.
No great man ever complains of want of opportunity.
Every burned book enlightens the world.
Fear is an instructor of great sagacity, and the herald of all revolutions.
Our best thoughts come from others.
Peace cannot be achieved through violence, it can only be attained through understanding.
The greatest gift is a portion of thyself.
Though we travel the world over to find the beautiful, we must carry it with us or we find it not.
Nothing great was ever achieved without enthusiasm.
Every man is a quotation from all his ancestors.
God enters by a private door into every individual.
The value of a principle is the number of things it will explain.
Every man supposes himself not to be fully understood or appreciated.